Bio
SAXOPHONE, POP, SOUL, FUNK,
JAZZ, ROCK. IT'S ALL LOVE!
Thomas Hutchings is a popular New York City saxophonist/producer; He's consistently crossed thresholds of greatness. With a wide range of musical influences from Bunky Green & Grover Washington, Jr. to The Beastie Boys & Basement Jaxx, his music productions & arrangements have appeared in episodes of Keeping Up With The Kardashians,  Bad Girls Club, and Real World: Las Vegas. As a regular fixture in New York's creative independent music & art scenes since 1995, Thomas has appeared in film & television & has performed & recorded for audiences big & small all over the world since starting his professional music career 1991.
Thomas works with, for, and around straight-up, legit stars and stars in the making (recording artist Gavin Degraw, artist Laurance Rassin, East Coast Blues Artist SaRon Crenshaw, Comedic art-rock band The Niagaras, NY Funk band Milo Z, Jazzy-pop dance artist Petite Meller, ) & 2011 was saxophonist on the Grammy nominated album "Emotional Jukebox" with his horn section The CNP Horns. Thomas studied saxophone in New York City with Ira Jackson, Tim Price & Bob Mover and is a current member of Performing Rights Organization, SESAC & voting member of The National Academy of Recording Arts & Sciences.
Latest album, a collaboration with pianist, Camden Hughes titled IntroSpective is now available for mp3 download!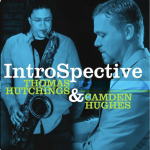 Executive Producers​:​ Thomas Hutchings & Camden Hughes
​Co-producer & mix engineer: Frank Wolf
​​Recorded by: Patrick Storey at Audio Lab, Boise, ID
​​Mastered by: Michael Fossenkemper at Turtle Tone Studios NYC
Musicians:
Thomas Hutchings-Tenor & Soprano sax
Camden Hughes-Piano, Wurlitzer, Rhodes
Dylan Sundstrom-Upright & Electric Bass
David Gluck-Drums
Micah Stevens-Guitar​​​
Featuring the vocal stylings ​of​ Emily Braden​ on Cat Time Blues
Upcoming 2015 Releases: 8/8/15 IntroSpective – Thomas Hutchings & Camden Hughes – Independent
News & Press:
I'm currently working on multiple remix, production & recording projects as they come along for songwriters or current collaborations with my horn section the CNP Horns. Get in touch if you'd like a remix or a horn section for your song.
LATEST REMIX:
Past Interviews:
Video launch with 

Sonic Scoop
Interview with ucombo.com


Interview with 

Jazz Examiner


Interview with 

Riff Raff Magazine